Boat Trips on our boat, the "Sairaj"
Blue Lagoon Resort Goa has its own boat for transfers to/from local beaches and for sightseeing.
Boat trips can be booked during your stay for sightseeing or dolphin spotting - or, if you want to arrive in style, book in advance for boat-taxi pick-up from Agonda and Palolem Beaches.
Price includes up to 6 guests.
Boat trips depend on the weather and sea conditions, so may not be possible every day. Usually they are arranged for early morning, as there is a greater chance of seeing dolphins and the sea is usually calmer in the morning.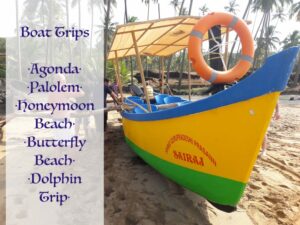 Transfers by Boat:
Agonda Pick-up or Drop: 2000 Rs
Palolem Pick-up or Drop: 3500 Rs
Patnem Pick-up or Drop: 4000 Rs
Sightseeing Trips by Boat:
Sightseeing nearby: 1800 Rs
Butterfly & Honeymoon Beaches, with 20 minute waiting time while you explore, before returning to Blue Lagoon: 3000 Rs
Agonda Beach, with up to 2 hours waiting while you explore, before returning to Blue Lagoon: 3500 Rs
Palolem Beach, with up to 2 hours waiting time while you explore, before returning to Blue Lagoon: 5000 Rs